Ultrasound can offer major benefits during surgery that helps clinicians view real-time shifts or changes of anatomical structures.

CT and MRI scans are acquired before surgery, leaving the surgeon with potentially outdated patient information during surgery. Brainlab's clever new technology allows neurosurgeons to overlay real-time ultrasound images on top of the patient's MRI or CT image to provide real-time anatomical information of the brain or spinal cord while operating. The addition of ultrasound fused with MRI or CT data allows for enhanced visualization and multiple imaging perspectives.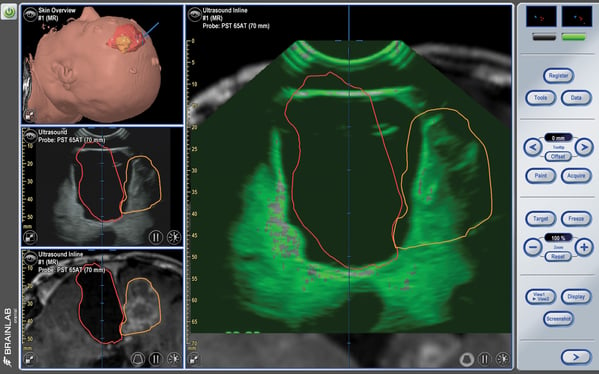 Photo credit: Navigation screenshot courtesy of University of Mannheim, Germany
The Brainlab Neuronavigation System also displays the transducer orientation on a 3D map. BK's Flex Focus 800 offers a high quality digital connection, ensuring superior high resolution ultrasound imaging. BK's own Burr Hole 8863 and Craniotomy 8862 transducers are also fully compatible with Brainlab's system.
Watch how Dr. Quigley has successfully integrated his BK ultrasound system with the Brainlab Neuronavigation System.
To learn more about Analogic Ultrasound's systems for neurosurgery visit our website.