BK Ultrasound, Powered by Analogic breaks through with ultra high resolution ultrasound imaging. By adopting the gaming industry's best streaming graphics processing and architecture, BK Ultrasound has developed a system that is both powerful and power efficient.
The new bk3000 ultrasound system incorporates graphic processing units (GPUs) into the systems imaging architecture. GPUs are much more powerful and efficient than the conventionally used central processing unit (CPU). Ultimately, the GPU is growing at a much faster rate than the CPU, inspiring Analogic scientists to adopt the faster growing technology of the future.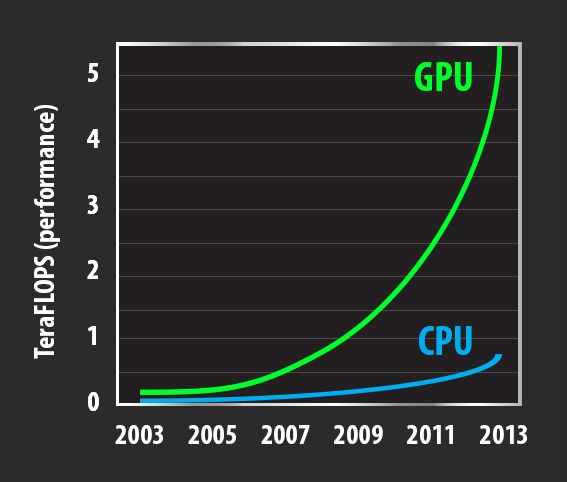 GPU versus CPU growth since 2003.
So what does this mean for ultrasound? Triplex imaging is more responsive than ever, displaying 2D, color and spectral Doppler at unsurpassed frame rates. BK's technology fuses channel information to dramatically reduce noise and artifacts, while increasing detail and contrast resolution. With the bk3000, you'll routinely see anatomy and micro-visualization not seen with conventional ultrasound. You can visualize subtle tissue contrast, see real information at depth, and notice exceptional detail in moving structures with increased frame rates. The bk3000 is the first system on the market that has adopted this technology in its beam forming and computing architecture.
Learn more about the bk3000 ultrasound system on our product page.